As a newly created digital audio matrix by Huiwei, the Matrix series aims at "digitalization and intelligence", adhering to the craftsman spirit of excellence and ultimate improvement, and is a product series integrating the advantages of "efficient operation, centralized control, flexible configuration, 5A core algorithm" and other products; The Matrix series fully meets the needs of the market and application sites, and also makes every effort to make products show unique advantages in professional debugging places through product performance and experience, supported by excellent product strength.
Matrix series is an audio processor with multiple analog inputs and multiple analog outputs, including Matrix08 and Matrix 16 models, using the industry-leading Analog Devices DSP main control chip SHARC21489, the highest operating frequency can reach 450MHz, built-in feedback suppression (AFC), echo cancellation (AEC), automatic noise reduction (ANS), automatic gain (AGC), automatic mixing (AM) 5A core algorithm. It can meet the needs of audio processing and transmission in isolated places, and is suitable for conference rooms, multi-function halls, conference center auditoriums, administrative centers and other occasions.
Product Introduction//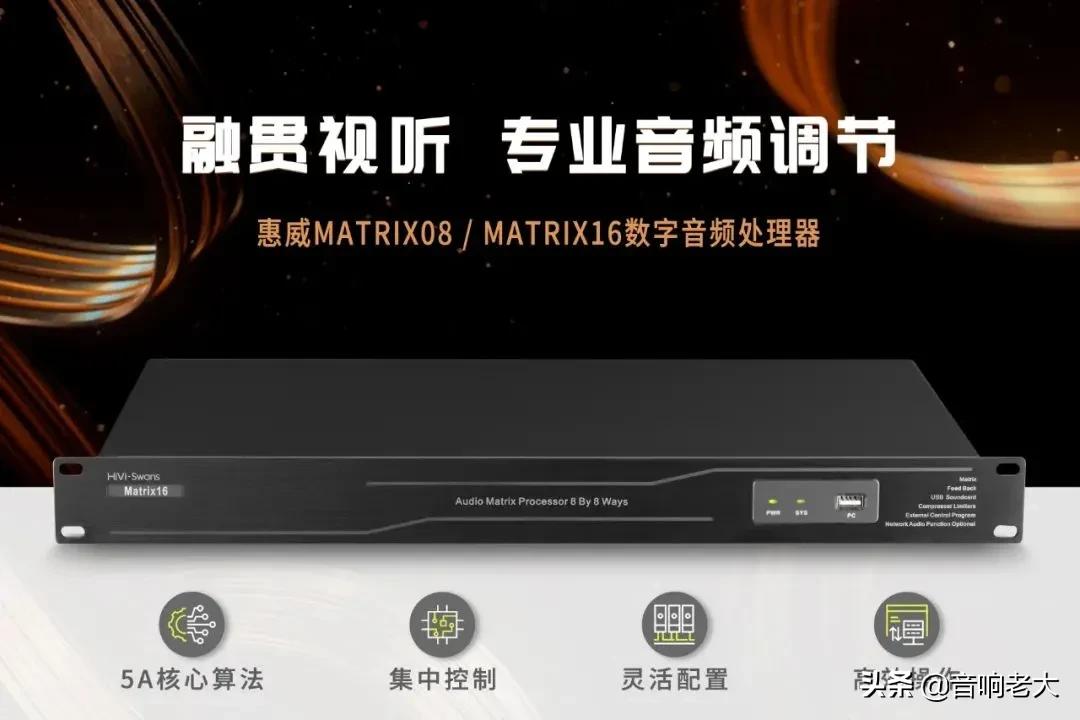 The front panel includes an LED power indicator and a device operating status indicator, the power indicator lights up, wait for the system status indicator to enter the flashing state, and the device is finished booting.
The rear panel includes power connectors and switches, Ethernet ports for connection to control ports, RS485, RS232 communication ports, GPIO universal ports, analog audio input and output ports, and up to 16 input and output ports.
Core Features//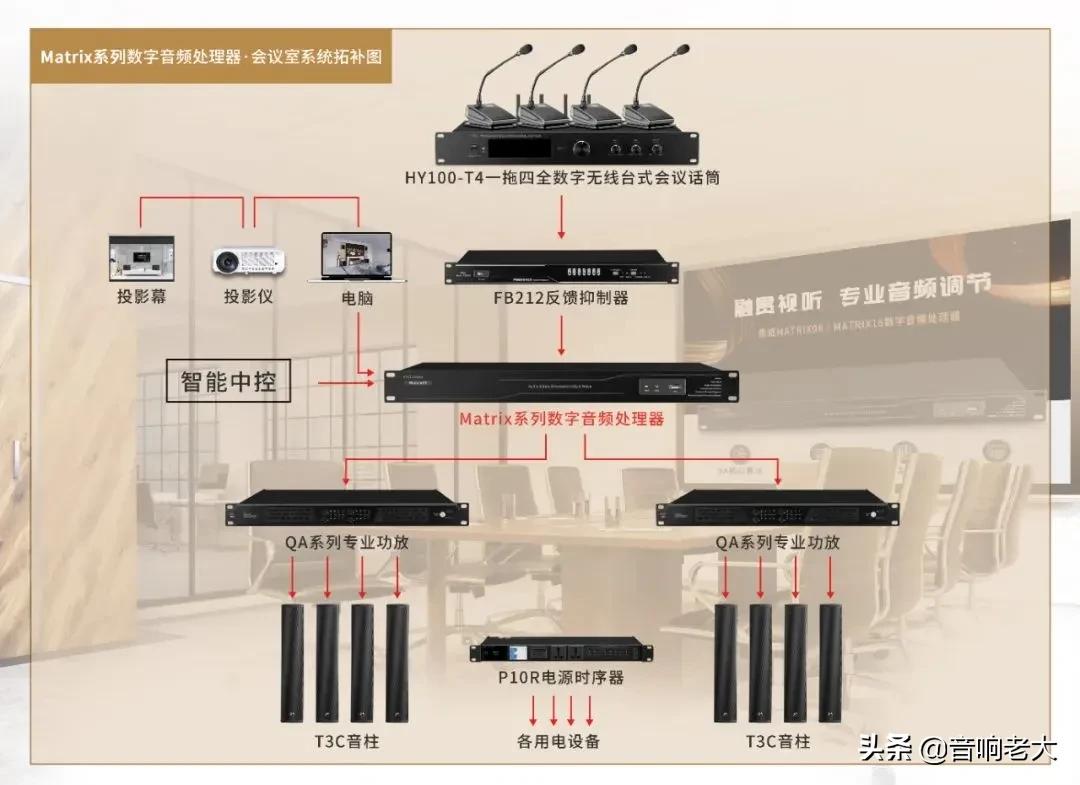 1
Multiple balanced inputs/outputs, phoenix plug interface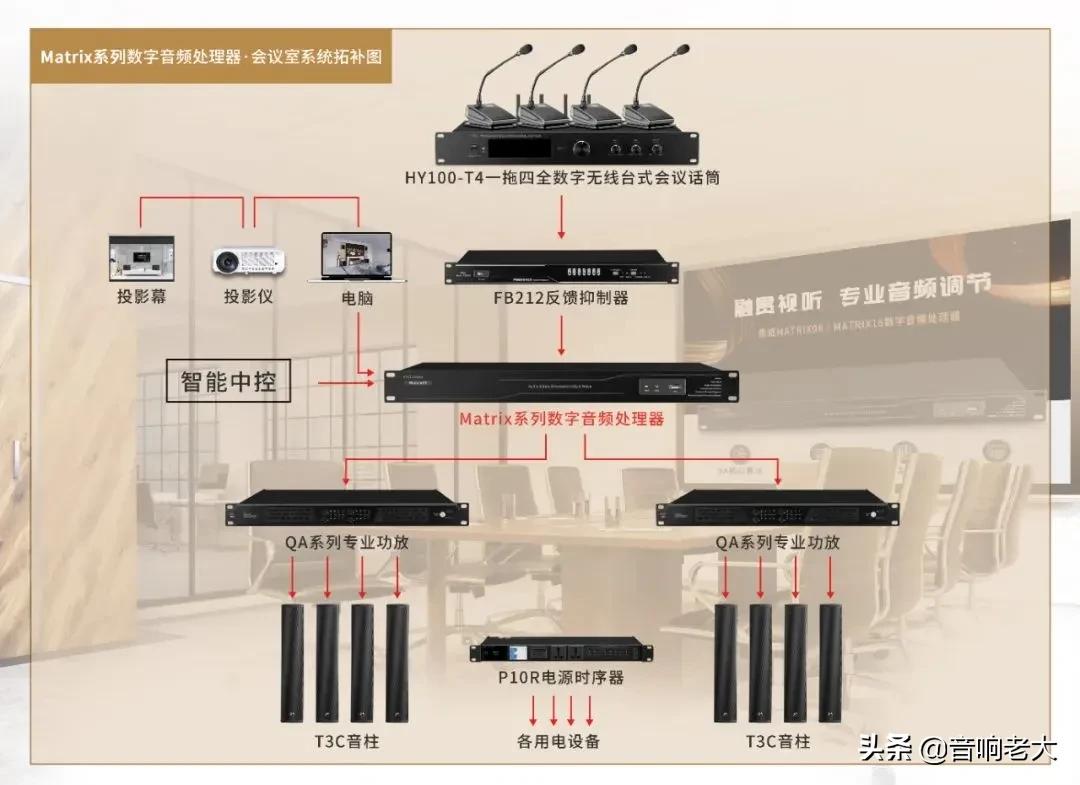 The Matrix Series is equipped with an advanced audio processing system, multiple balanced mic/line inputs, multiple balanced audio outputs, via a detachable balanced phoenix connector
Either of these interfaces can appear on both sides of the balanced connection. Note: For an XLR interface, the female is connected to the output and the male is connected to the input.
2
ADI SHARC processor
The Matrix series adopts the industry-leading ADI SHARC 21489 processor, advanced and stable ADI architecture audio processor chip, the maximum operating frequency can reach 450MHz, no less than 40bit DSP floating point arithmetic engine, provide a freely configurable software architecture, with internal high-speed ADC and DAC, can process multiple audio signals at high speed while ensuring ultra-large dynamic and detailed tone output by the system
3
Multiple control methods
Matrix series can be operated and used by professional PC control software, visual control interface, a computer can perform a full range of operation on the product, diversified functions make the system configuration flexible; And through the management of web pages, mobile phones, tablets, button panels, touch panels and other diversified ways, users can freely choose the debugging operation mode of the product according to the different use environment.
4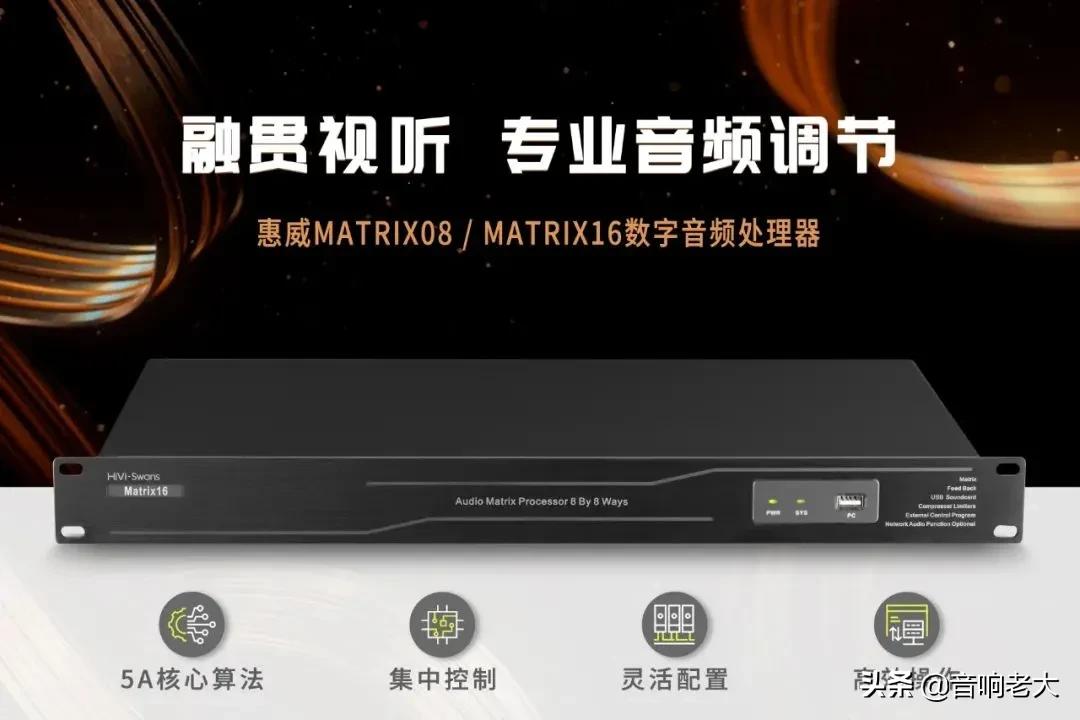 RS232 & UDP central control
Support RS232&UDP central control, UDP port can be set freely, can view the control software code.
5
Supports personalization of output/input channels
Input channels include preamplifier, signal generator, expander, compressor, 5-band parametric equalization, automatic gain, etc.; Output channels include 8-band parametric equalization, delay, divider, limiter; Full-featured matrix mixing capabilities.
6
5A core algorithm
The input and output modules of the Matrix series DSP can be customized according to the site conditions, and have independent AFC, AEC, ANS, AGC, AM and other processing modules, which can meet the needs of audio processors and transmissions in various places.
7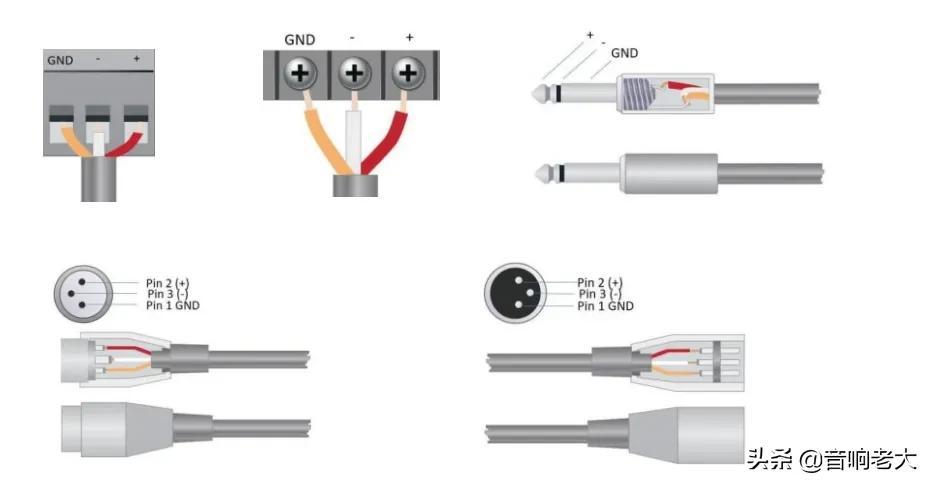 Manage multiple devices in real time
The Matrix series provides a custom user terminal operation interface to realize centralized control of multiple devices, support operation and debugging of multiple devices, and truly realize unified management of multiple devices, fast control, efficient and convenient; You can add up to * devices on the same interface, and control third-party devices through the UPD, RS232, RS485 of this machine to set corresponding parameters.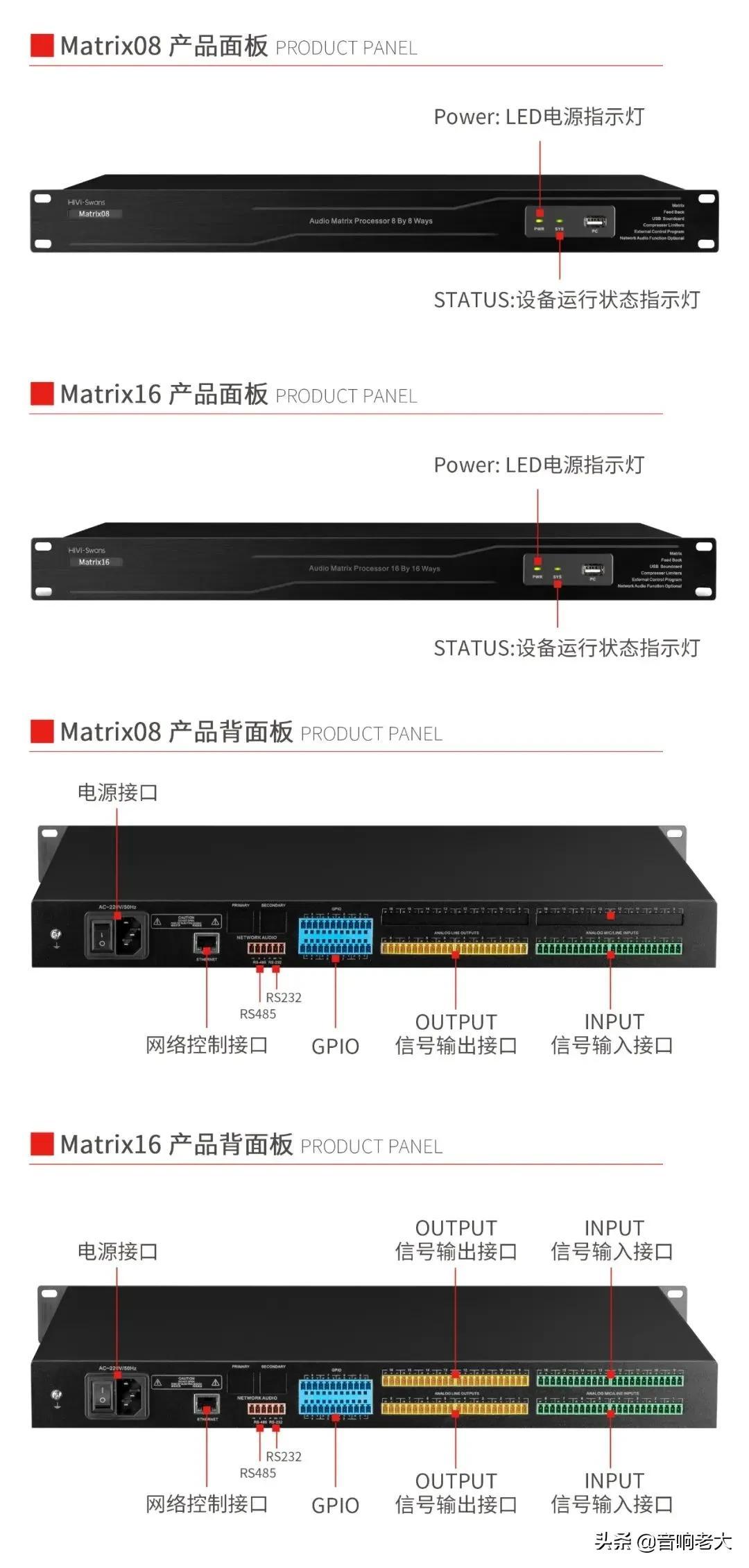 8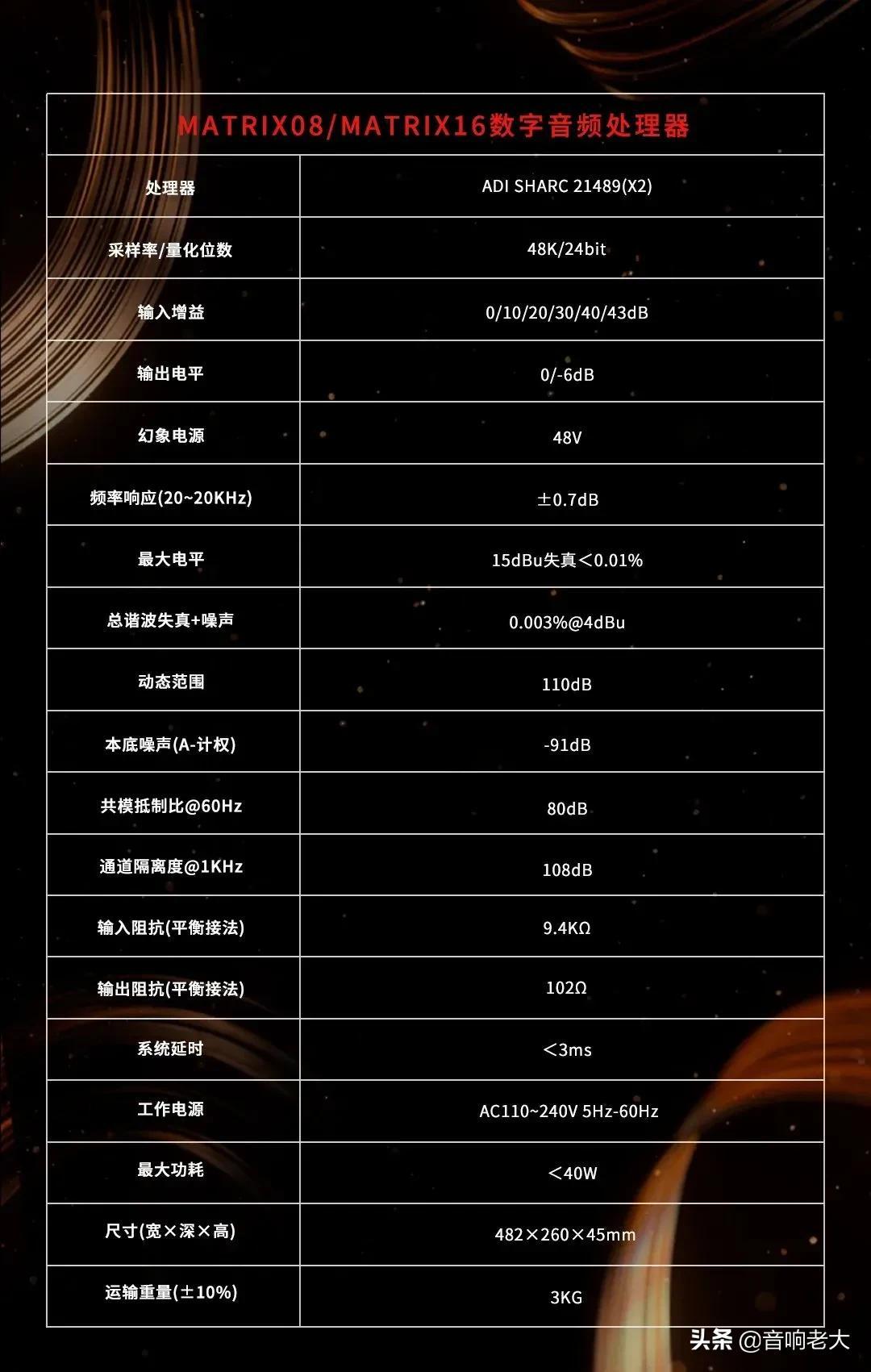 matrix
The matrix has a dual operation function of routing and mixing, the input mixing level can be adjusted, the input channel is represented horizontally, the output channel is represented vertically, and the default one-to-one input and output, as shown in the figure. If you need to mix the sound of input channel 1 and input channel 2 to output channel 1, point both 1 and 2 in the horizontal direction on output channel 1. If Input 1 and Input 2 participate in automixing, the output is not affected by automixing. Similarly, after setting up the automix, echo cancellation, and noise suppression modules, the matrix needs to be set to obtain the correct signal routing relationship.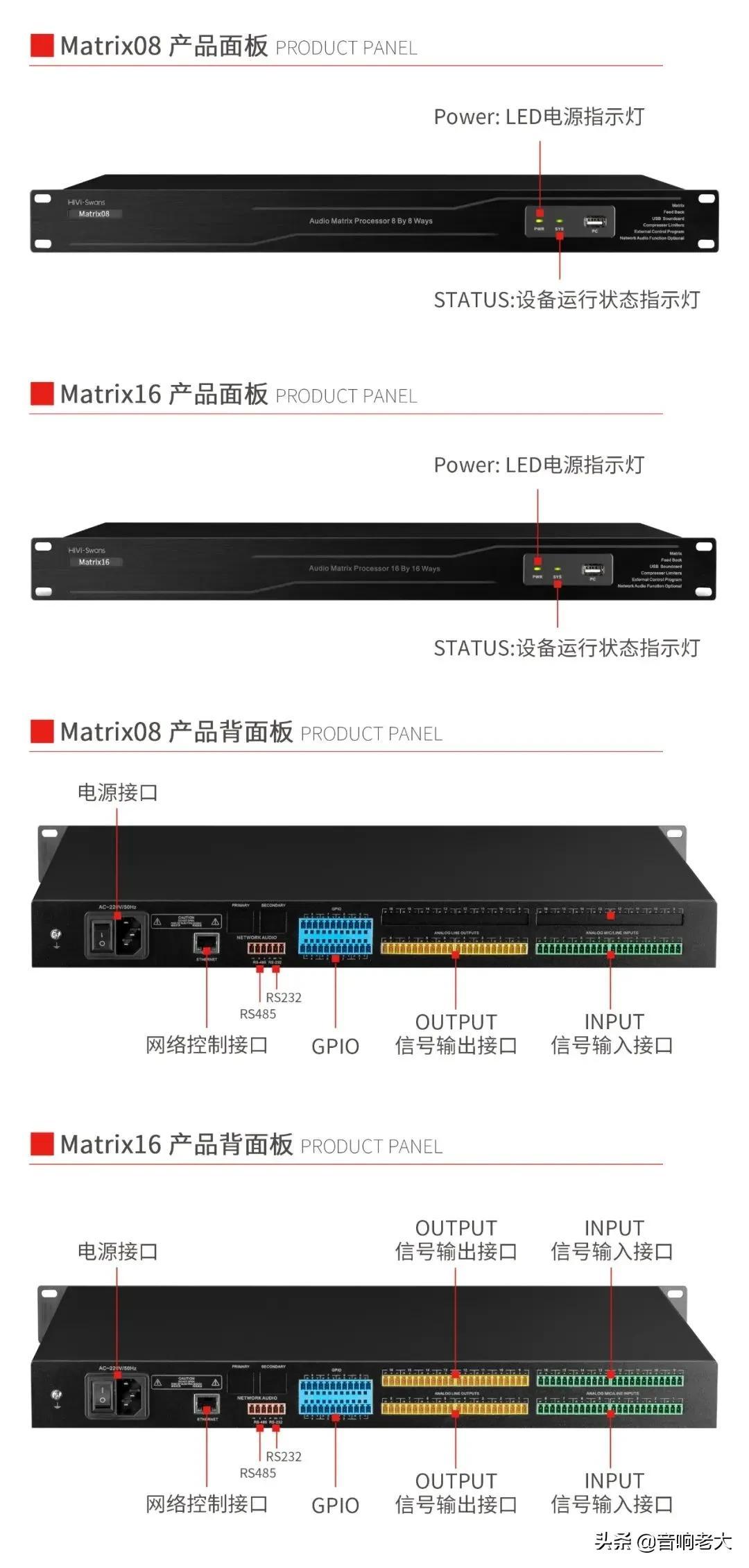 9
Other features
▶ Built-in USB card: connect to the computer to realize the transmission of audio signals, support recording and remote conference;
▶ Each channel has independent adaptive feedback suppression, automatically finds feedback points, and automatically suppresses;
▶16 groups of presets, each working independently;
▶ Multiple GPIOs can be configured independently of the input and output, and can be used as independent ADCs when configuring the input;
▶ Support channel shell, LINK and packet functions;
▶ Fire linkage function;
System topology //
The Matrix series can be used with Huiwei's professional speakers to centrally control the audio system on the stage or conference room, and the following is a reference diagram for the conference room solution:
Product parameters