China Net Finance on April 10 According to the website of the National Development and Reform Commission, in order to promote the implementation of the "Opinions on Further Strengthening the Control of Plastic Pollution" (Fa Gai Huanzi [2020] No. 80, hereinafter referred to as the "Opinions"), refine the policy boundaries and implementation standards for the prohibition of the production, sale and use of plastic products in various fields, according to the "Opinions" has clearly defined the direction and work objectives, the National Development and Reform Commission and relevant departments organized the drafting of the "Catalogue of Plastic Products Prohibited and Restricted from Production, Sales and Use (Draft for Comments)". It is now open to the public for comments. The public consultation period is from April 10, 2020 to April 19, 2020.

The "Opinions" mentioned that the plastic products prohibited from production and sale include: disposable plastic tableware made of foam plastic, plastic products made from medical waste, disposable cotton swabs made of non-degradable plastic rods as the substrate, etc.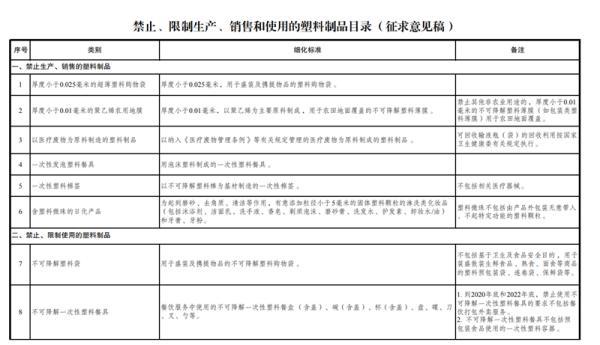 In addition, single-use plastic products in hotels and hotels are included in the plastic products that are prohibited or restricted. Specifically, it includes consumable plastic products used in hotels, restaurants, guesthouses, guest rooms and other places, including plastic combs, toothbrushes, soap dishes, sewing boxes, shower caps, washing care products containers (such as bath bottles, shampoo bottles, moisturizer bottles, etc.), laundry bags, etc.
Disclaimer: This article is reproduced for the purpose of conveying more information. If the source is incorrectly marked or violates your legitimate rights and interests, please contact this website with the ownership certificate, we will correct and delete it in time, thank you.