Sennet Frères, the Hong Kong brand officially licensed by The Walt Disney Company, has historically brought every girl's dream luxury bespoke clothing collection with all 12 princesses and 2 queen characters in Disney Princess Parade. This sumptuous collection was designed by Kev Yiu, Sennet Frères' Chief Creative and Design Director. Kev re-examines the classic anecdotes of each princess and queen, showcases his exquisite embroidery craftsmanship, and designs the "Sennet Frères Disney Princess Series" that integrates Disney fairy tale fantasy elements, allowing girls to become fashionable fairy princesses with unique personality styles.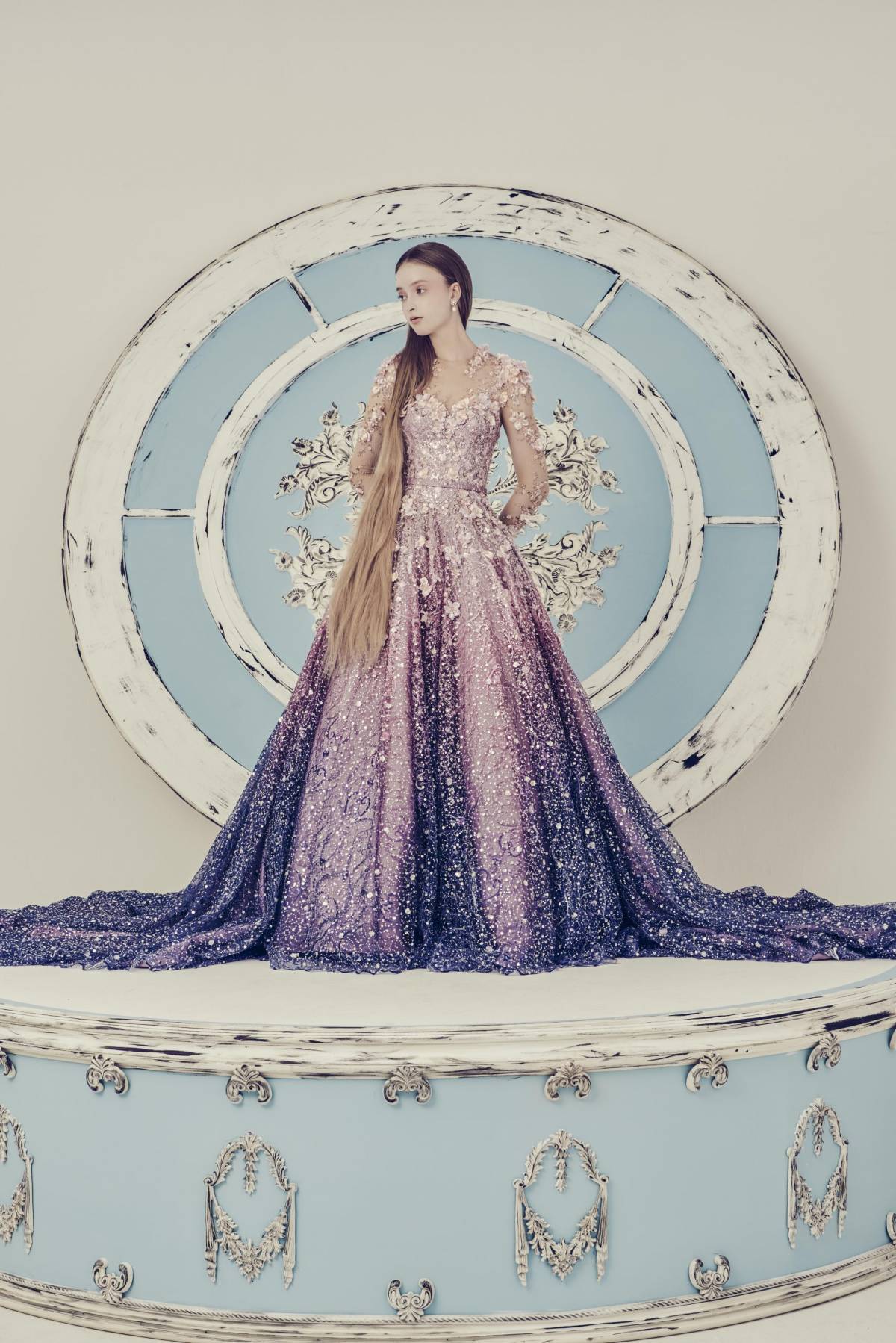 Creative & Design Director Kev Yiu: Interpreting the stories of 14 princesses and queens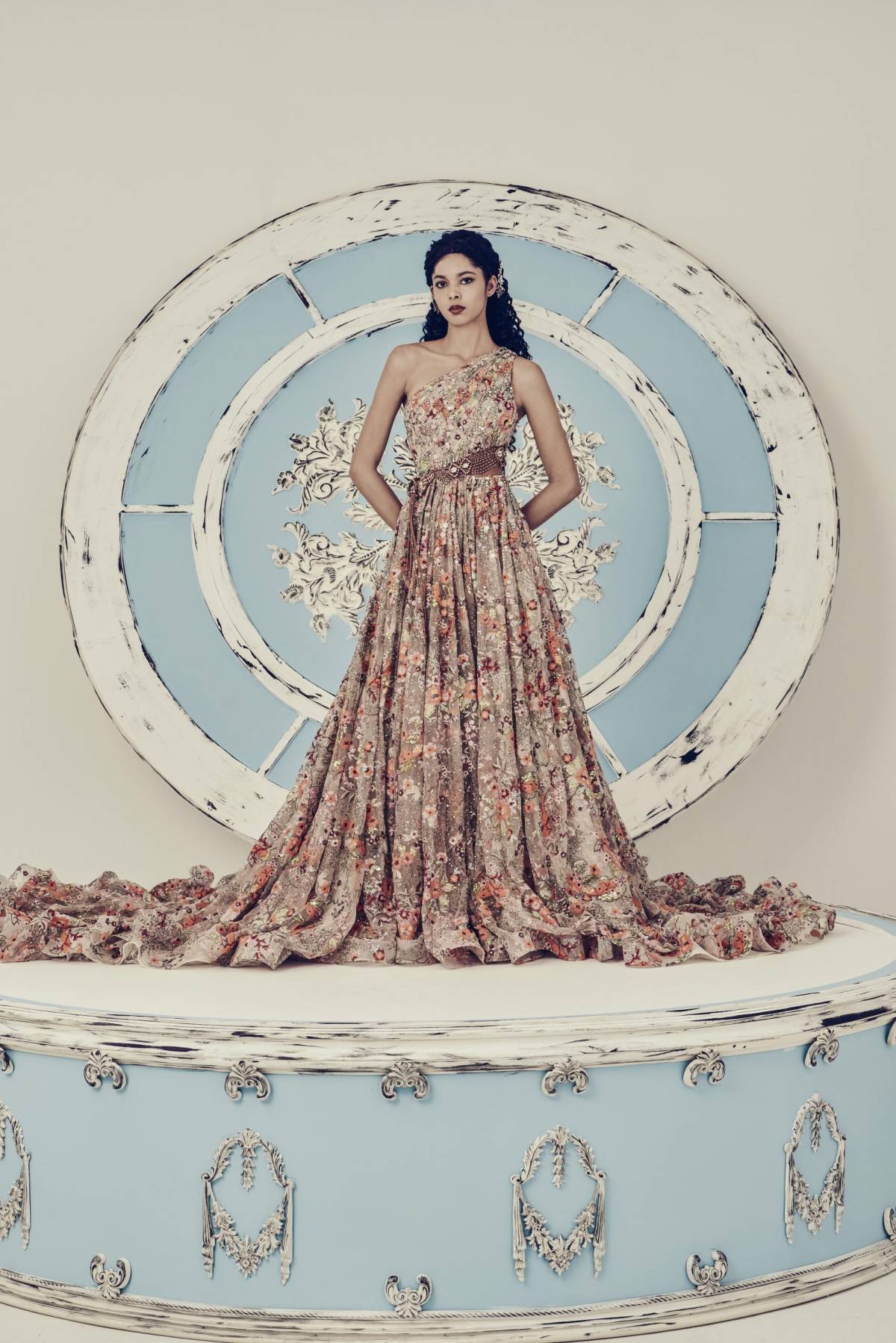 Kev said that during the design process, when he relived the classic stories of each princess and queen with an adult mentality and the eyes of a designer, he had a unique experience of each fairy tale teaching: "When we were children, we saw fairies conjure up a princess dress, and we would simply marvel at how beautiful that dress was. When I revisit it now, I will notice that each princess's design is ingenious and has the artistic style of the era, such as Sleeping Beauty is Gothic, Cinderella is Art Nouveau, and more recently, Princess Tiana is Art Deco in 1920… If you look at it slowly, you will find that there are countless details in the princess, all of which are well-founded in the setting, and each plot has its own unique meaning."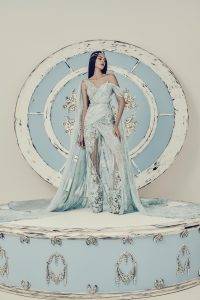 The dress is themed after Snow White's classic red bow, which the designer deconstructed and transformed into a wrapped draped outer skirt, the inner skirt is made of gold thread French lace with crystal embroidery, and an apple-shaped evening bag studded with red rhinestones makes the whole look even more iconic.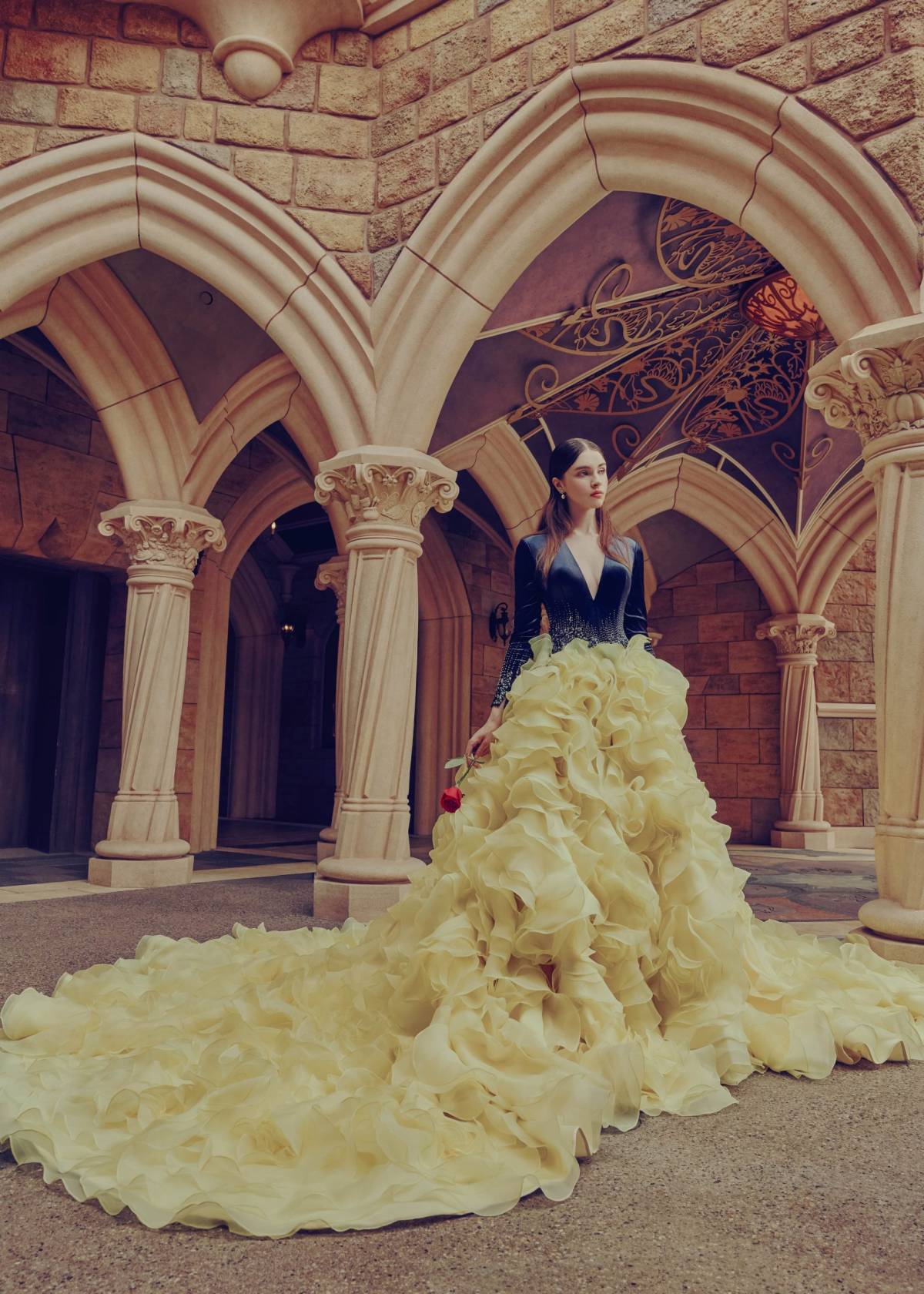 Most of the fashion inspired by the princess will insert the original elements of the princess into the design, such as Snow White's design is always indispensable red, yellow and blue, Bobo sleeves, apples and other elements, but Kev hopes to break these inherent design ideas in the series and bring unexpected surprises to the public, "I hope to inject the DNA of the original, and do not want to be unexpected by the public in terms of color use and detail design." Especially in white wedding dresses, how to transform the characteristics of princesses and queens into designs through imagery? It's more abstract than evening wear, and we're very story-telling in our design, so that when you savor it, you will think of the story of each princess."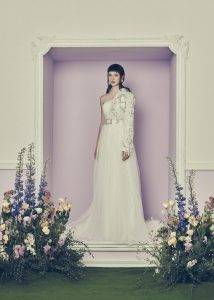 In particular, Kev uses two classic elements of the Snow White shape, balloon sleeves and cape, which are cleverly disassembled and put together, and embroidered with Renaissance totem embroidery studded with silver-white crystals and sequins, which is full of classical 16th-century romance.
Belle's gown was layered with chiffon into roses of different sizes, and it took 672 hours to create a flowery and visually stunning tail skirt. The upper body is made of blue velvet of the night sky and embellished with more than 10,000 crystal sequins, like beauty and beasts dancing in a dance hall under the bright starry sky.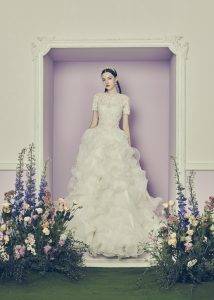 Kev takes Cinderella's artistic conception surrounded by stars as a blueprint, and with layers of metal thread embroidery and crystal, he designed a dream dance dress that seems to be surrounded by bright stars.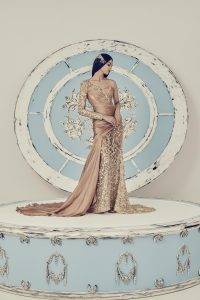 Create magical moments with Disney to encourage women to live their inner princesses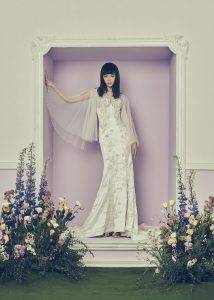 In the design of wedding dresses, it has always been necessary to examine fashion trends and celebrity dresses, etc., Kev believes that the fun of this series lies in being able to jump out of this framework and have more room for creative creation, "This collaboration has no shackles of market value, it is not purely for commercial purposes, and it is also more interesting!" Generally speaking, Hong Kong women do not necessarily choose colors such as orange and green that are less commonly worn, so they rarely have the opportunity to design with these colors and elements on weekdays. But this is a very valuable opportunity for girls to be interested in wearing these princess costumes after watching it, and this is the magical moment I created with Disney!"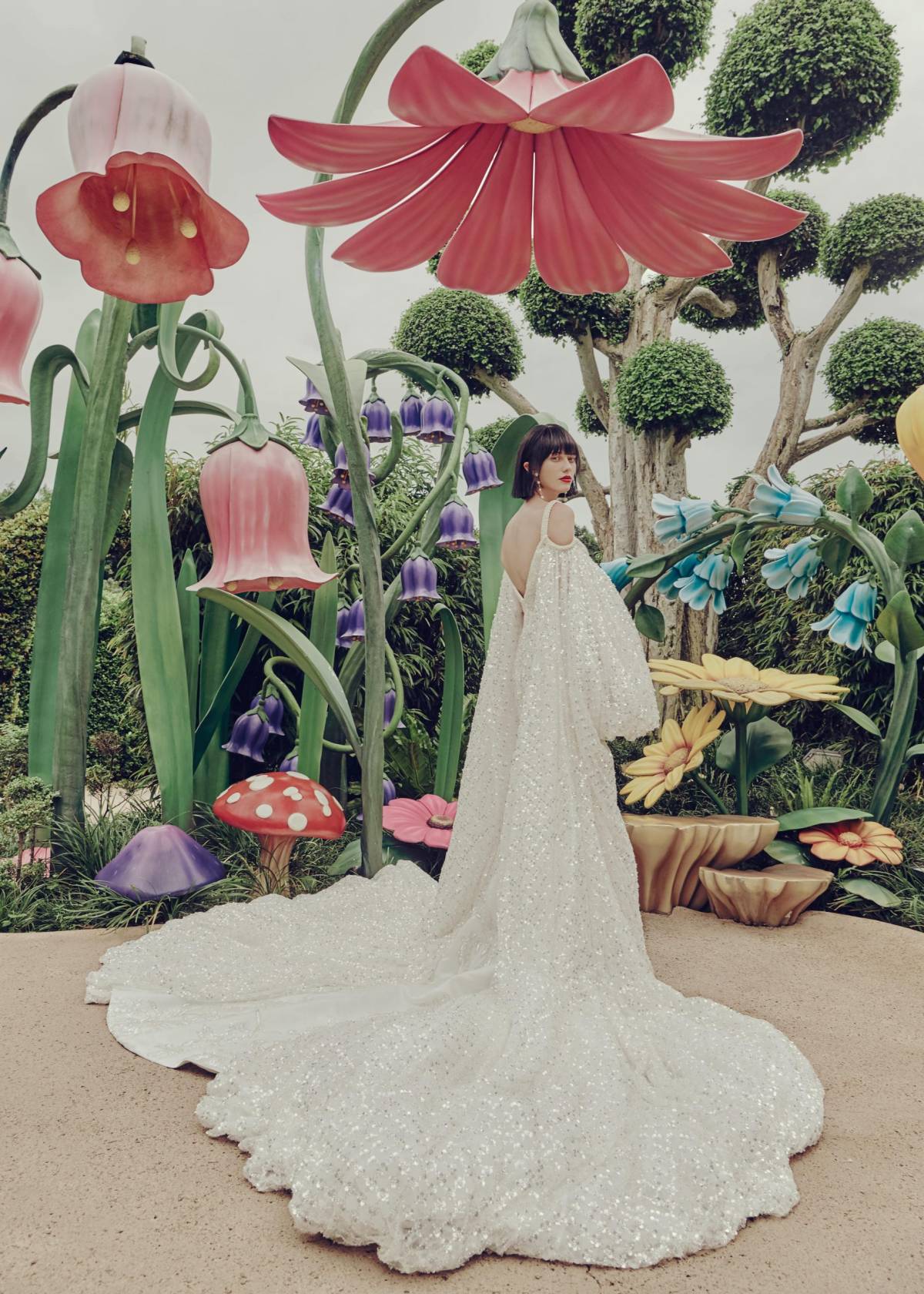 Magic Sea Muanna's themed dress uses orange lace, which is rare in haute couture dresses, with matcha and red hibiscus embroidery for a unique exotic look.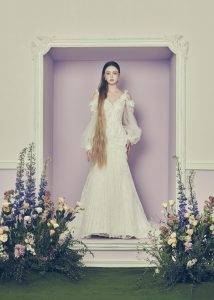 He also pointed out that in the past 80s and 90s, Hong Kong people enjoyed fashion and dressed up grandly when they went out, while Hong Kong people are conservative and reserved, so he hopes to use this collection to encourage the public to dress up in pursuit of happiness. Even if you grow up, if you suddenly want to dress up as a princess, even if it is not a wedding or a dinner party, just attending a party, you can wear these princess and queen clothes at any time and become your own princess and queen!"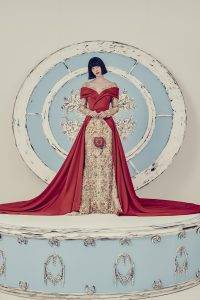 Kev uses bead embroidery and dyeing techniques to present magical moments of sky lanterns, bringing back the romantic experience of Rapunzel Lepei to everyone's eyes.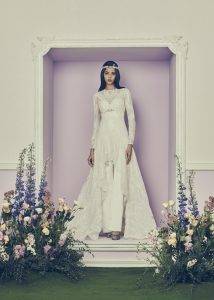 The use of Duan dyeing techniques to interpret the unforgettable color-changing dress of Sleeping Princess Arlo, and the work is embellished with climbing wild roses made of hand-burned corgan yarn and crystals, which is full of dreamy fairy tale style and pays homage to the film's unique gothic style.