In order to let the children better thank their mothers and express their love, from 17:30 to 18:30 on the afternoon of May 8, 2021, with the support of the Party Committee of Cuiping Community in Luohu, Shenzhen, the social workers of the Cuiping Community Party Group Service Center carried out the "Painting Mother's Love" parent-child DIY painting T-shirt activity.
The activity started on time at half past five, between parents may not be able to arrive in time due to work reasons, we let the first part of the parents and children currently carry out the activity, after introducing the purpose and content and specific process of this activity, the children have been eager to use our prepared colored pens, white T-shirts to draw, parents also followed the children to discuss which color to look better, parents smiled at the gifts their children gave themselves, the activity room was full of joy and happiness. Some parents and children communicate with each other and draw exactly the same parent-child clothes, while some parents and children are silent and bury their heads in painting, everything is silent. Although the mother received the gift in advance, it did not affect the emotional communication and interaction between parents and children, the mother seemed to enjoy the time with the children more, feel the growth of the children, feel the love of the children for themselves, just one hour for the parents and children, the years are quiet, worth reminiscing.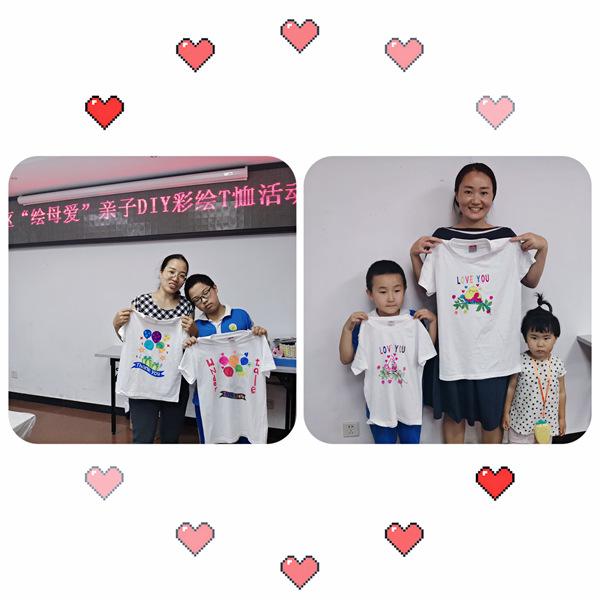 Before the end of the event, let the parents and children take pictures together with their works, and their faces showed full of love. We believe that the education of love for children in this activity will continue, so that parents and children can cherish and respect each other, create a harmonious and beautiful family atmosphere and parent-child relationship, and help children grow up better.
Zhong Lihua, social worker of Shenzhen Social Work Service Center stationed in Cuiping Community Party and Group Service Center